Welcome to the official website of Schattenboxen Boxers!

APRIL 2018:
We have a dark brindle male available, and a planned litter for MAY 2018

*** WE HAVE RELOCATED TO KENTUCKY FROM WASHINGTON STATE ***



Photo above: MARC del Benicadell (ATIBOX CH Future vom German Dream x Festa del Benicadell)

We are located in North Eastern Kentucky, USA! We have imported some excellent European Boxers from show and working lines and all of our Boxers and puppies are raised inside with the family.
At Schattenboxen Boxers we focus on the Boxer as a whole package...
Health, temperament, structure & working ability...
These four important attributes are always a priority and considered to be equally important when making breeding decisions in our program.
Puppies from Schattenboxen Boxers are bred for all of the above and we strive for the best results every time!
We have some wonderful males that represent us and we hope will be a very important influence, in not only our program, but for other breeders in North America as well. The names of these special males are:
Marc del Benicadell, Ch. Black Knight of Kellaney, Geronemo vom German Dream BH AD ZTP, Ulan del Benicadell, Brock vom Schattenboxen, and Int. Ch. Aeschylus vom Schattenboxen.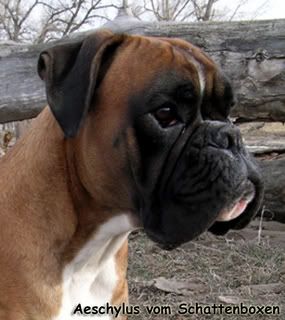 Photo above: International jChampion Aeschylus vom Schattenboxen
While our dogs can tend to have a higher drive than a typical North American bred Boxer, they are not mean or aggressive in any way. They are family members and get along with children, the elderly, other dogs, cats, and any other member of the family! Just as any other Boxer they do require plenty of exercise and mental stimulation! These are very intelligent animals! Do not hesitate to contact us to potentially add one of our special and loving Boxers to your home!!.
Special emphasis is made on producing QUALITY puppies that have a true Boxer character, temperament, and posses the happy, eager, fun loving need to please their handler and learn with ease.
Because we strive to raise all of our Boxers in a home environment we are unable to keep all of the puppies we normally would hold back for evaluations at 12 and 24 months of age...so in order to keep our Boxers at a more manageable number we often offer puppies and sometimes young adults to approved foster homes! Be sure to inquire about this wonderful foster program if you live in Washington State and would like to have an excellent representation of the breed in your home, but do not necessarily feel you are capable of responsibly handling breeding correctly.
Stud service to our Boxers are offered to approved, health tested bitches only.




Photo above: Aschera vom Schattenboxen
We are actively looking for homes that would like to obtain a show and/or working Boxer. Please contact us if you are interested!!

Schattenboxen Boxers uses and recommends NZYMES®. Be Sure to tell them you were recommended by Agent # 12564 and you will get a free 20.00 BONUS with your first order!

COPYRIGHT 2003-2014
- All pages and photographs contained within this website are not to be copied, reproduced, or re-written without written consent from Schattenboxen Boxers! -